LANA FILIPPOVA
"When designing for my clients I blur the boundaries between interiors, art, and fashion"
About Designer
---
Having been employed in the interior design industry for over 20 years, Lana has gained vast experience and knowledge and built up a loyal client base. All aspects of the business where the entire client experience, from showroom design to quality and diversity of supply chain and focus on customer service, meets Lana's exacting standards.
The new showroom opened in June 2017 where Lana designed all the display furniture using the latest high-quality materials and finishes to showcase some of the best products from around the World in a wonderfully relaxing setting. The inspirational window displays draw in passers-by who, once inside, are encouraged to touch and feel the textures, be WOWed by the accessories and samples, and be inspired by the beautiful surroundings.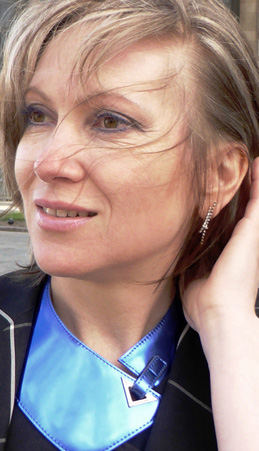 Lana does not solely rely on the well-known and established home furnishing brands that can be found in many other interior design shops in the UK. She strives to source products from manufacturers who are not known in the UK market. She is a regular visitor to Maison et Objet in Paris, Salone del Mobile in Milan, and other trade shows, searching for products that are unique and cutting edge. Furniture and accessories on display are from as far away as Japan, India, Brazil, and Turkey. Lana pays special attention to new, up-and-coming manufacturers from emerging nations such as Ukraine and Latvia, supporting their efforts to break into new markets, and of course, some of the best UK designers and manufacturers are always "go-to" suppliers. This approach generates a wealth of ideas and ensures a constantly evolving and exciting range of products on offer, including one-off specially designed items.
Lana is also an established artist whose work can be found amongst collections in the UK, Europe, USA, and even Australia. Her paintings are displayed in the new showroom and are frequently acquired by her clients to complement their home interiors. This is a unique blend of interiors and fine art. Together with a stunning range of accessories, every interior scheme can be beautifully enhanced by finishing touches, transforming it from a high quality to an exceptional piece of work.
The business caters to all aspects of interior design, from curtains and wall coverings to carpets and rugs, from lighting and furniture to sofas and beds. Kitchens, bathrooms and fitted furniture can be designed bespoke to fit in with the client's requirements. There are no limits to what can be achieved.
The company has a strong presence on multiple social media platforms such as Twitter, Facebook, and Instagram. A prominent profile on Houzz.co.uk provides clients with a constant source of new ideas. A monthly Newsletter is carefully constructed to ensure it is focused, high quality, and inspirational, showing off the latest and the best designs on the market so that our clients can get in touch to learn more about the services and products on offer.
At Lana Filippova Interiors, there is no hard sell and the company's philosophy is that the most expensive products are not necessarily the best ones for the job. Creativity is the key. Each client receives an individual approach and the design fits the given budget, ensuring that it is spent in the most efficient way and that the client gets the best result. Although a complete interior design service is the core of the business, smaller jobs are undertaken with as much enthusiasm, drive, and energy. The passion for interior design translates into the service provided and the best products continuously sourced. The reviews left by clients on Houzz.co.uk say it all.
Certifications and Awards
---
Lana Filippova has been regularly nominated at The Northern Design Awards for the Best Interior Designer, The Best Room, The Best Interior Design Project, The Best Interior Design Practice, The Best Retail Space, and The Best Product of the Year between 2011 and 2022
Numerous awards for the Best Design and Best Service by Houzz.co.uk between 2011 – 2022.

Reviews
---
Lana did a fantastic job with our apartment in London – she came up with many great ideas and many different products at varying prices. She was very professional throughout and helpful and she worked well within the budget we gave her. As I was overseas she oversaw all the renovations and was always very quick to respond to my emails. I highly recommend Lana to anyone looking for a down to earth, creative and professional interior designer.
We recently remodelled the entire ground floor of our house. Lana spent lots of time with us and picked out some beautiful furniture and great fabrics for the contemporary look that we wanted to achieve. The result was stunning and allowed us to utilise the house in a far better way than we had previously done. I would highly recommend Lana and will definitely be using her again.
In the space of around eight months Lana has helped me design a dressing room, ensuite, bathroom, revitalise a study, guest bedroom, master bedroom, family bathroom, and we are juggling several other projects too.
Lana will never pull together a run of the mill scheme and I think that is where her talent lies. She has chosen wallpapers, and in particular, lights that are sensational. She is not afraid to work on several rooms at once for impatient clients like me and works very quickly. My worry in using an interior designer to help with an entire house was that it would lose the personality of us and be a little generic. But this is not the case because Lana gets to know what you like, we pick everything together but she finds furnishings, furniture, lightings that I would never have found on my own.
A huge advantage of the service is that whilst you can pop into their showroom in Bowdon, Lana also brings samples, brochures, accessories and furniture to you. The delivery drivers, fitters and workmen she has recommended have been top quality – polite, friendly and as tidy as possible. It has been an absolute pleasure working with Lana.
Lana has provided bespoke artwork to me on a number of occasions to fit in with both my own taste and to complement the interior design of the rooms. Working with a variety of mediums she never disappoints and she has the ability to push your boundaries without making you feel uncomfortable. The end result always has the wow factor!!
I have known Lana for many years now and she has done many projects for me each time I have moved home. Lana brings a unique enthusiasm and talent to each project and she has an ability to understand your requirements and taste very quickly. She is also very good and coming up with stunning pieces which work in your budget. I have always been delighted with the end results and I now have furniture that I know will stand the test of time. She always provides an extremely professional service and will help in any way that she can. I also have a couple of Lana's paintings which provide a real wow factor to my home, along with stunning interiors she has created. I will certainly engage Lana's services again and would not hesitate to recommend her.
---
Houzz Reviews