Welcome to the November Newsletter, the UNIQUE edition in which we celebrate rarity in all its forms, through a curation of Rare Finds – the finest and the most inspiring from global brands, artisans and artists alike. Whilst we still reminiscent about hot summer days, cooler weather reminds us of winter creeping upon us and Christmas season looming ahead. This could be the perfect time to learn about wonderful objects you may like to invest in or make someone special happy with a truly amazing present!
Nailed it!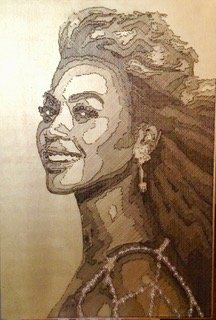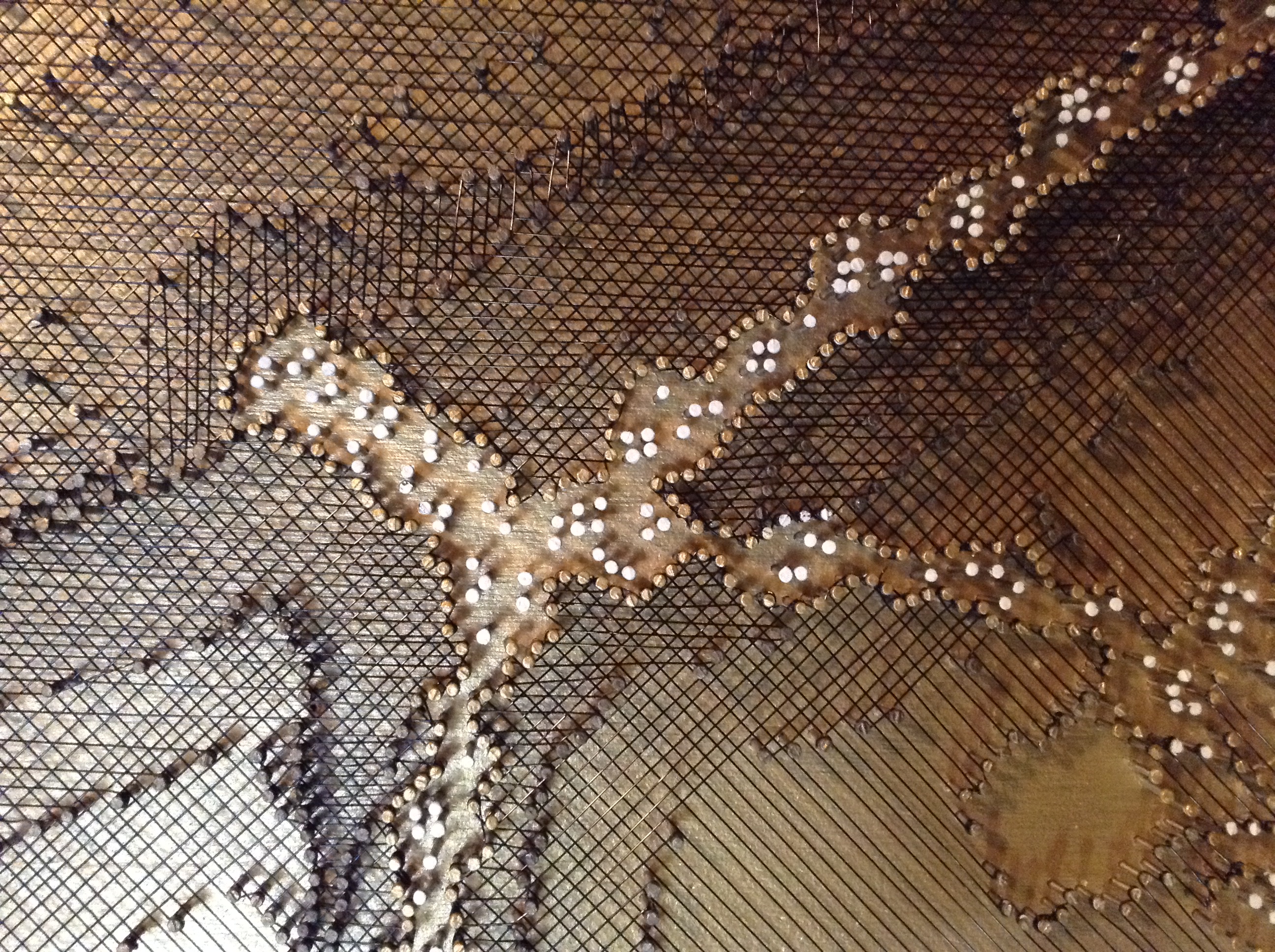 Inspired by Filografi, Zoe Chapman creates portraits from fine wire and tiny nails using crosshatching. This unusual technique has been developed by the artist herself. The portraits produce a three-dimensional effect. At first the works appear to be crosshatched pen and ink drawings but on closer inspection you will be amazed to discover that they are in fact made from fine wire and tiny nails. The intricate, novel nature of the portraits, the unexpected materials and the technique of their construction make these works totally unique. The artist uses hundreds of metres of very fine enamelled copper wire and hundreds of tiny nails on painted board. The portraits are 60 x 90 cm size but can be larger to create an impact and become a focal point in the room. She also undertakes commissions.
As tough as leather?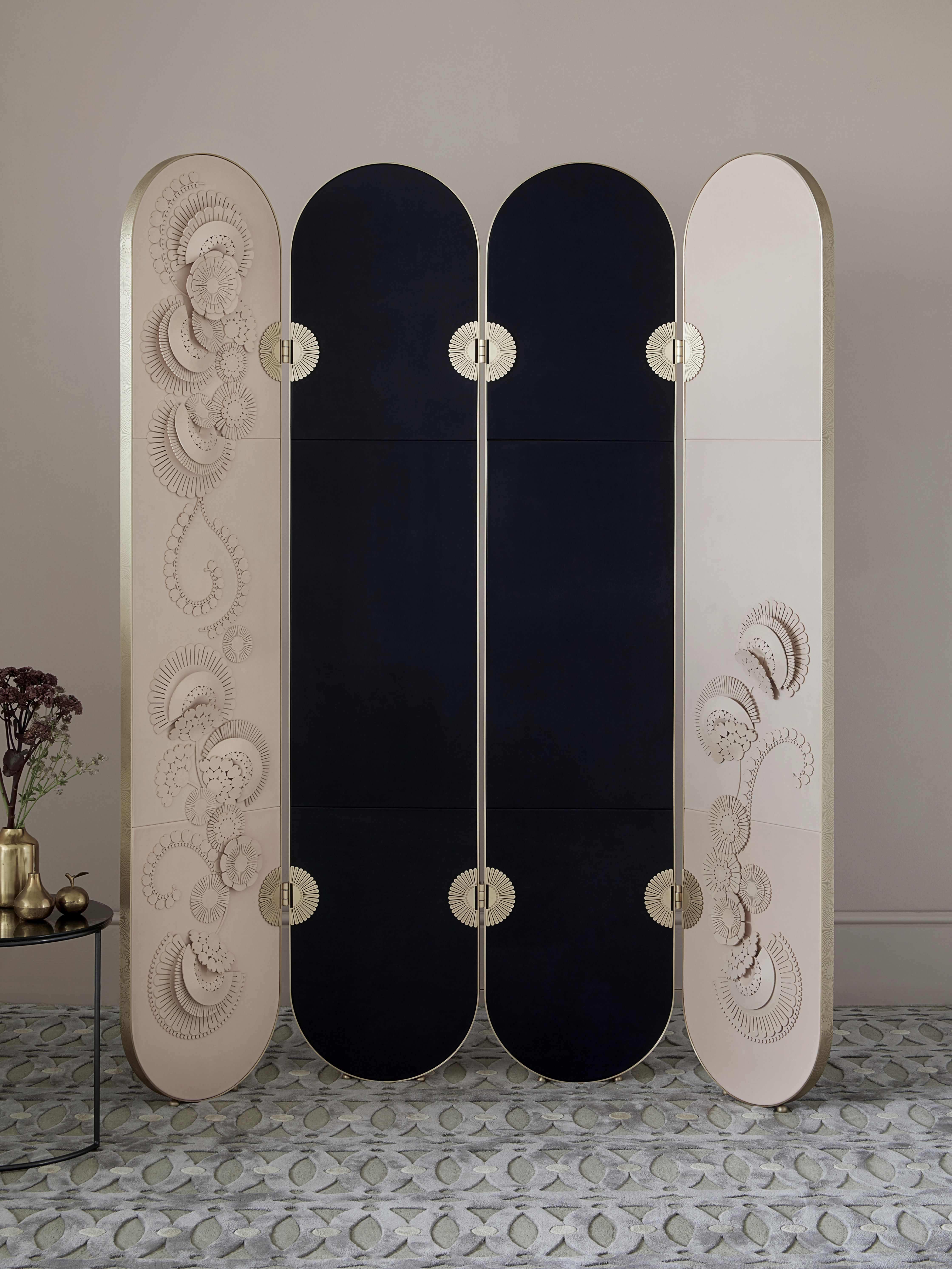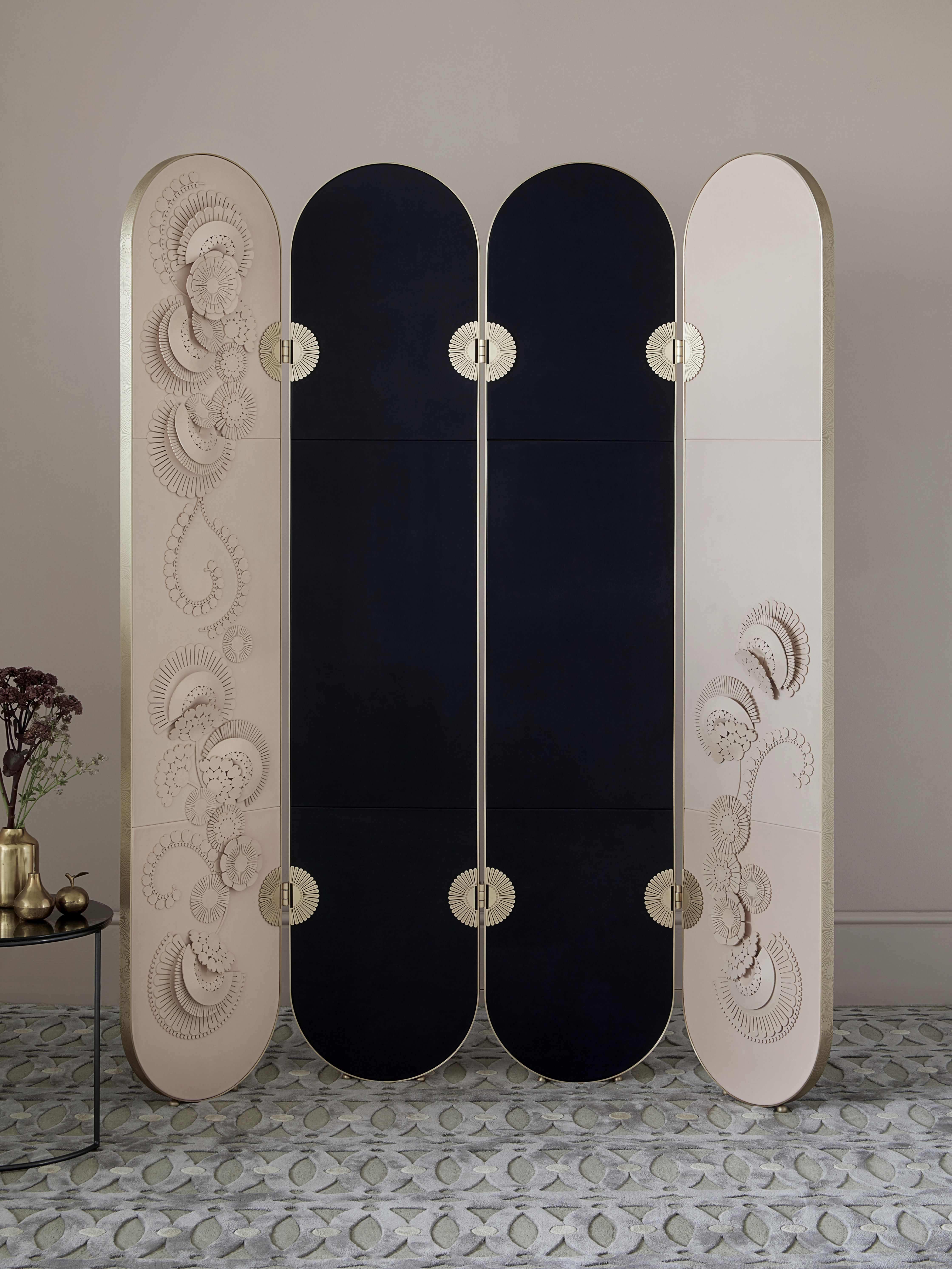 The earliest record of leather artefacts dates back to 2200 BC but our love affair with leather continues today. The most inspirational applications were seen this year at all major Interior Design shows in Paris, Milan and London which created a bit of a leather Renaissance. London based product designer Genevier Bennett creates distinctive pieces which are contemporary and timelessly elegant. She employs sophisticated technology to transform finest leathers in to pieces of art, known for their three-dimensional sculptural forms and surface relief. Her bespoke works can be used as wall-coverings, artwork, furniture and mirrors. All her leather works are crafted by hand in London and are collected globally.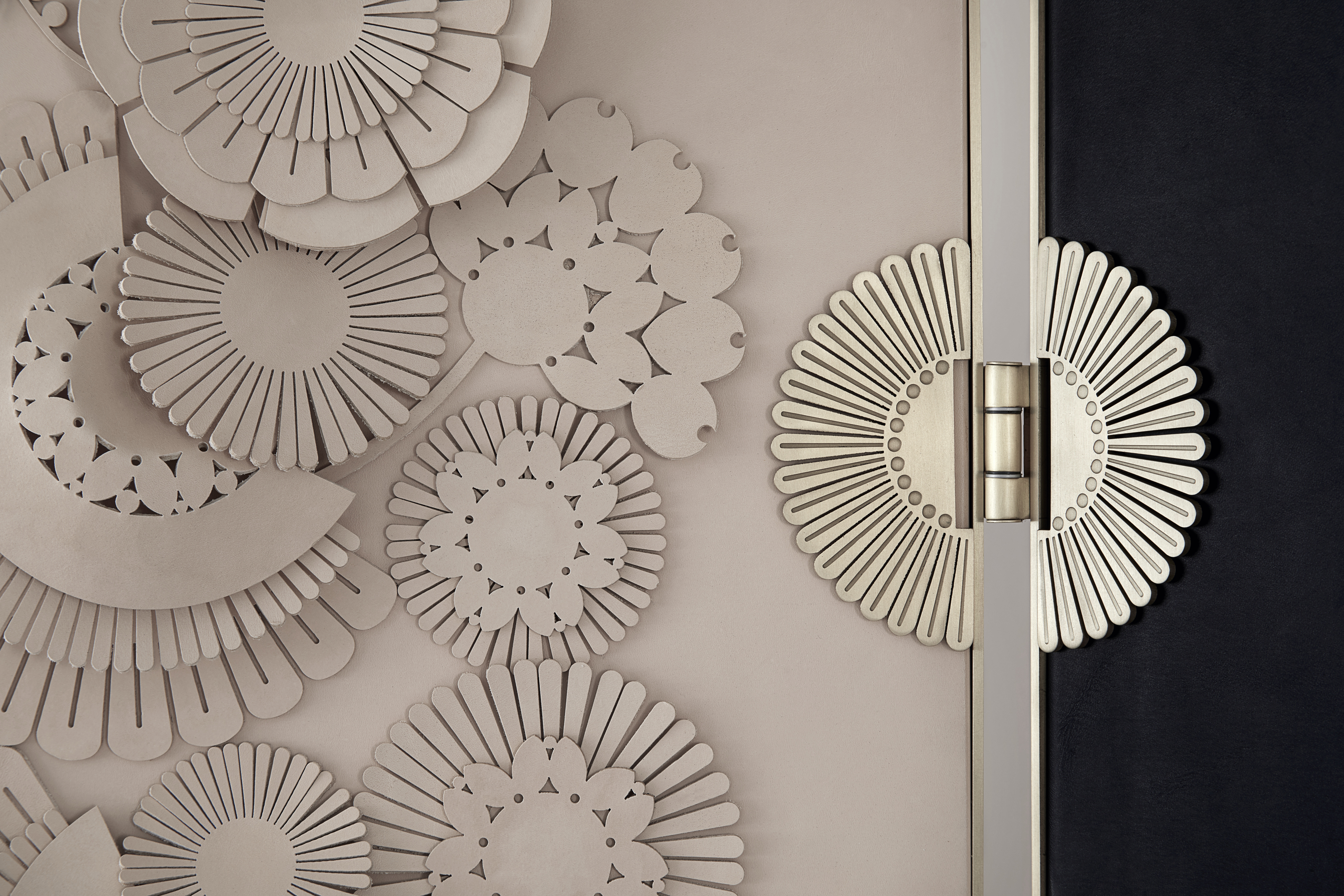 Just as stunning effects are achieved by an artist-maker Elena Leonova when she painstakingly cuts and stitches leather forming intricate patterns on leather chairs, her speciality. However, there are no limits if a unique headboard or a wall decorative piece is required to add finishing touches to the interior.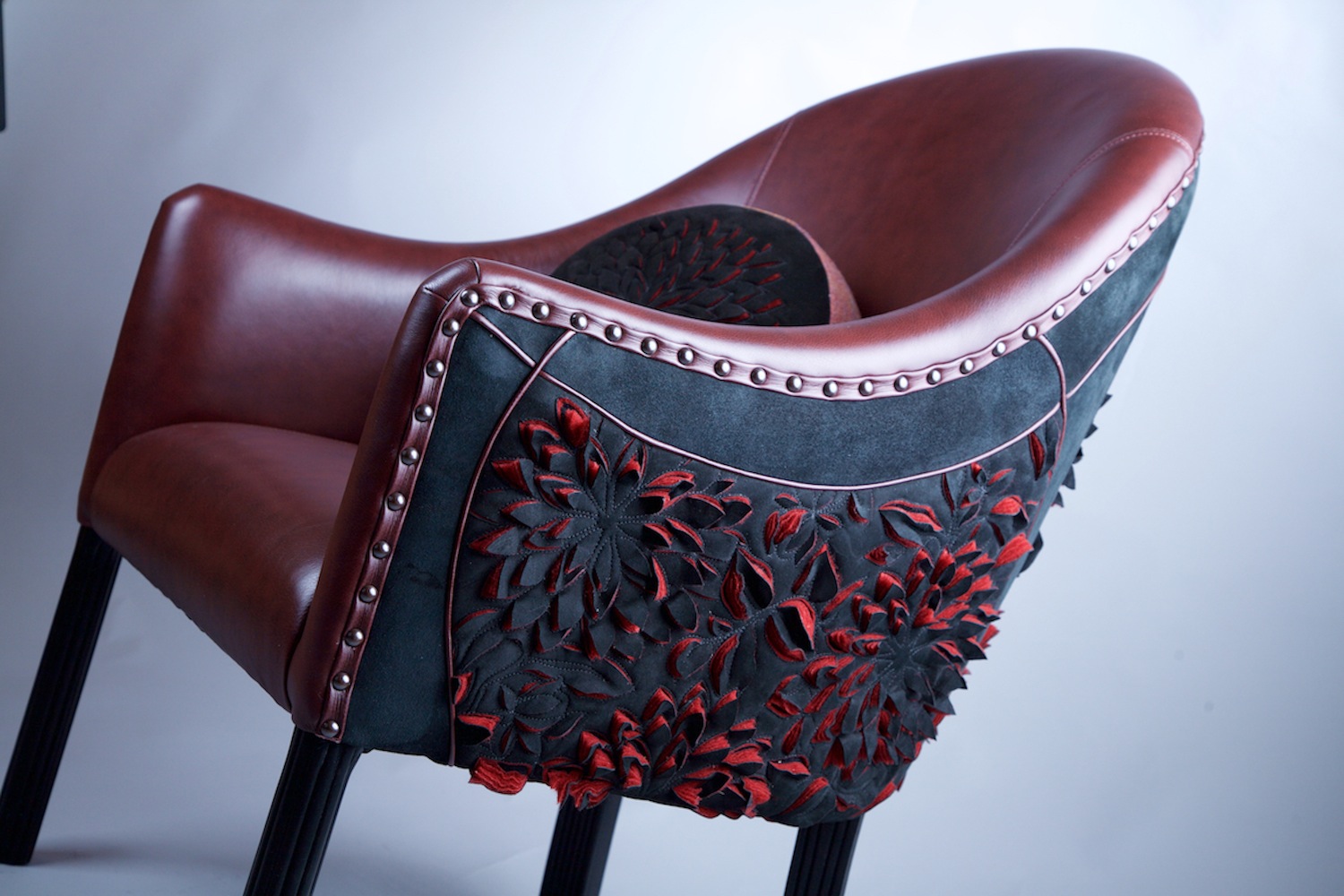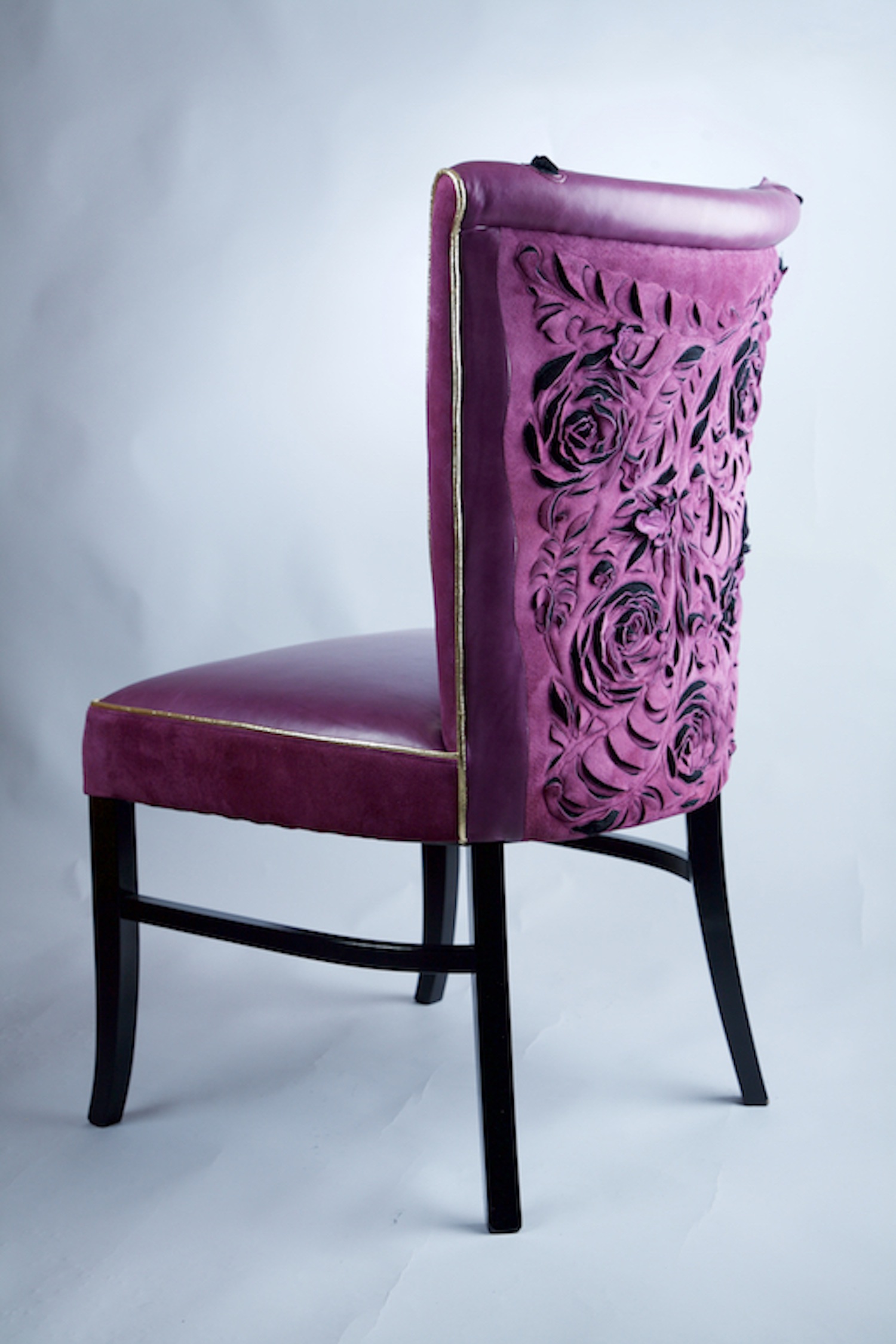 One of a kind…
Melchiorri Bespoke is the only company I know that takes "bespoke" to its limits. Based in Italy, they employ craftsmen specialising in metalwork, stone or glass. Each piece commissioned by interior designers is created as a "one off". "Impossible" does not feature in their lexicon, be it a 3D handle or a dining table base laser cut out of a solid piece of marble or gold leaf applied by hand to an intricate sideboard made in exotic veneers and Quartz. The company welcomes the most unusual requests and has built a reputation for itself as a couturier in the interiors business.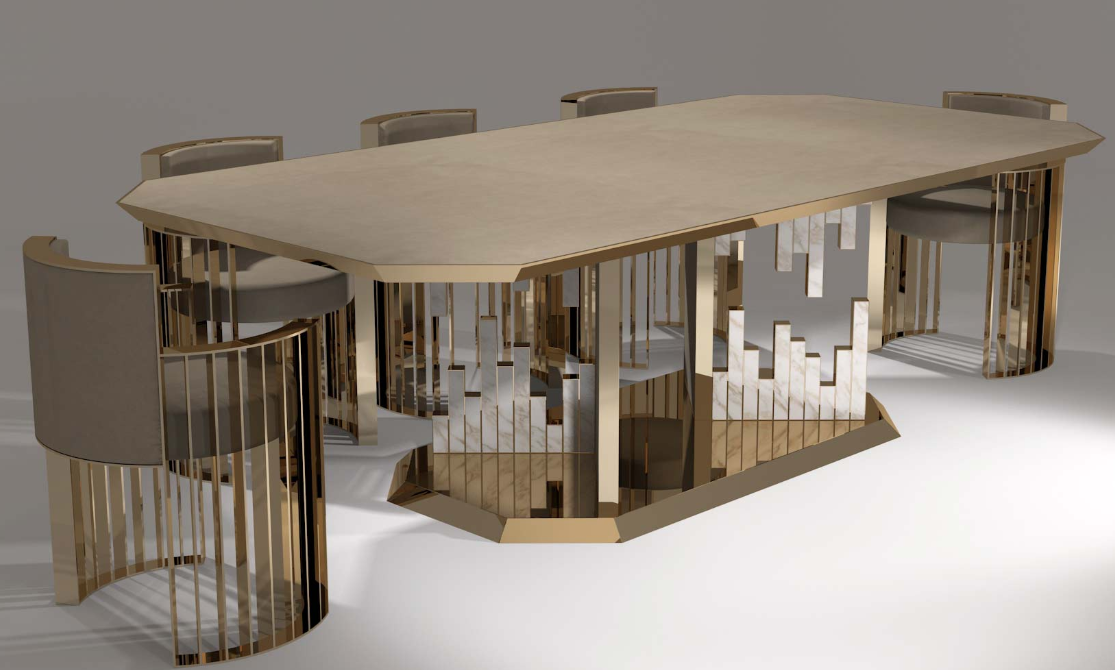 Impossibly beautiful, rare and truly unique these pieces would be treasured by you and your family for generations. They will not date but will become even more desirable in the times of cost cutting and mass production.
Couture cushions…
These objects of desire are embroidered entirely by hand with a truly bespoke approach for each project. Passion and workmanship combined enable Beaumont & Fletcher produce these unique accessories where silks velvets are embroidered with silk, gold and silver threads, freshwater pearls, crystals and semi precious stones.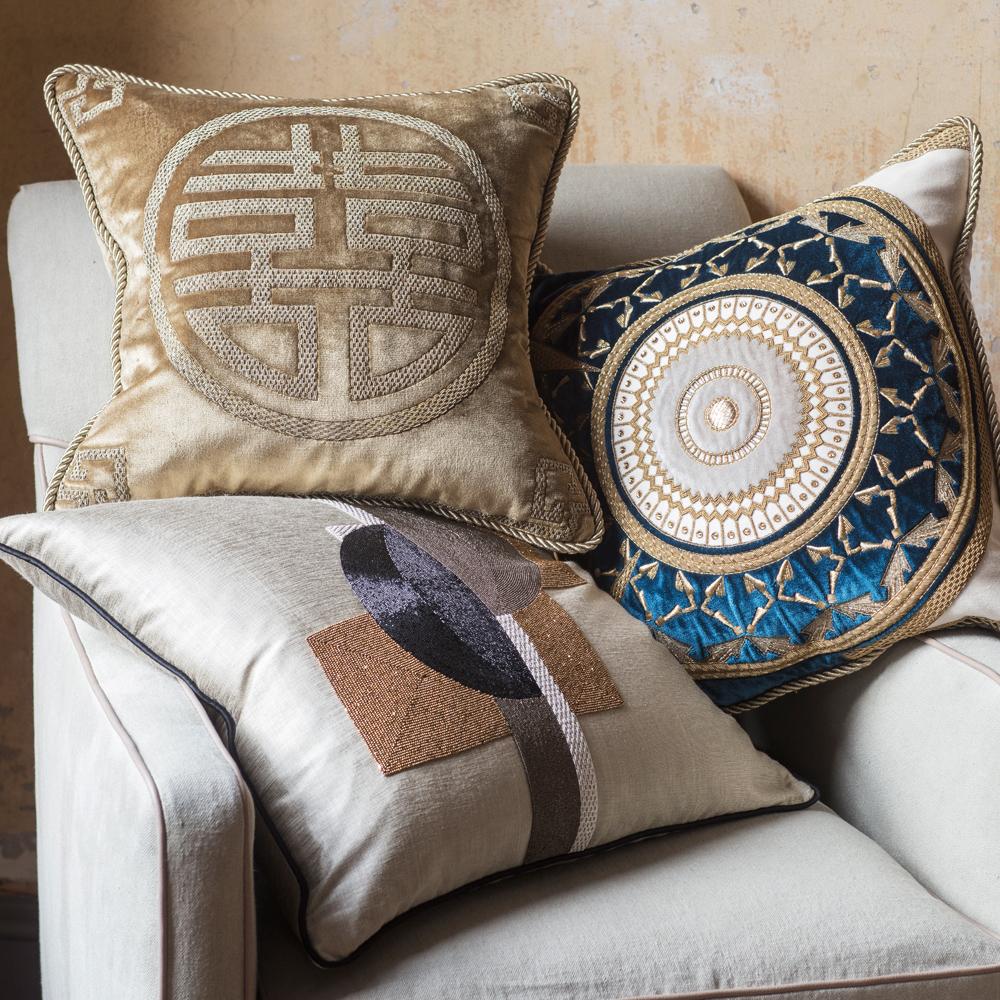 Crystal clear…
When fashion titans turn to the interiors, the result is as inspiring as their couture shows. The prove is the latest rug designed by Gianfranco Ferre, adorned by Swarovski crystals scattered on the luxurious silk pile. The colour is up to you!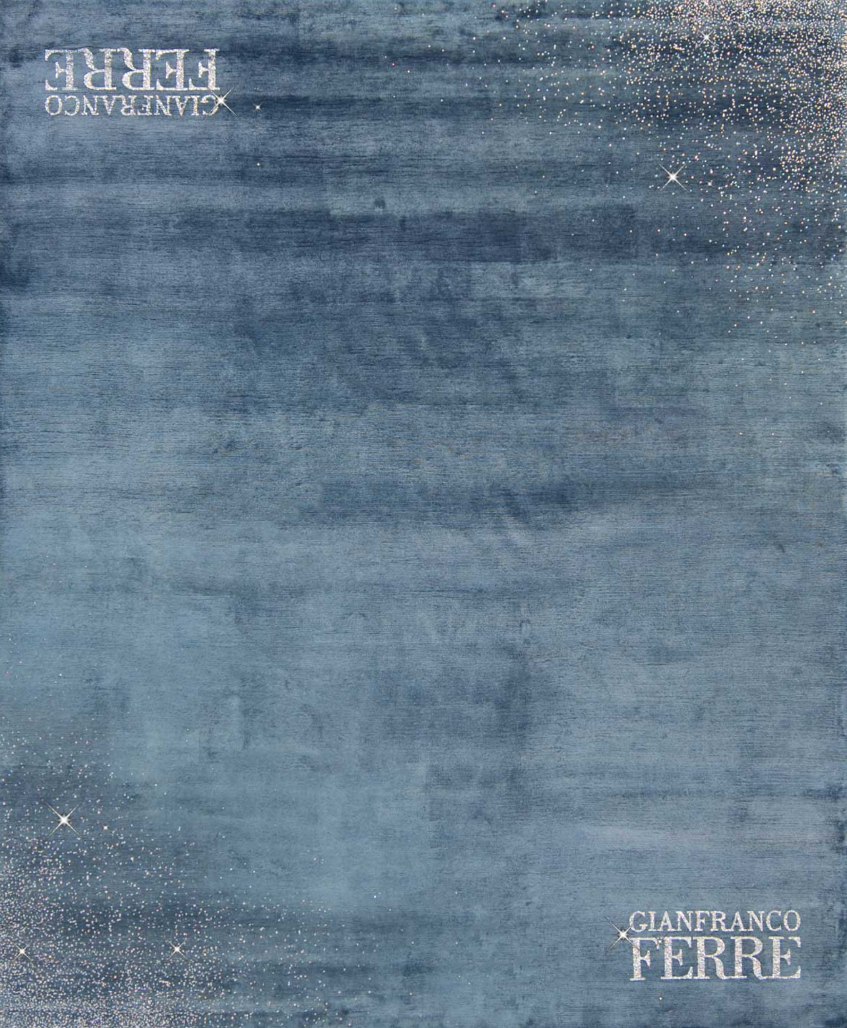 Lighting the way…
Since it was established in 1997, Sharon Marston's studio has won international acclaim for its breathtaking chandeliers. Each design introduces the light source through the specialised use of fibre optic filaments, which combined with colours and form, give the work its signature ethereality. A highly skilled team hand-craft the decorative components of the lights customised to the client's exact specification. The work fuses materials from a range of industries and craft disciplines crossing boundaries between art and fashion combining traditional processes with contemporary technique.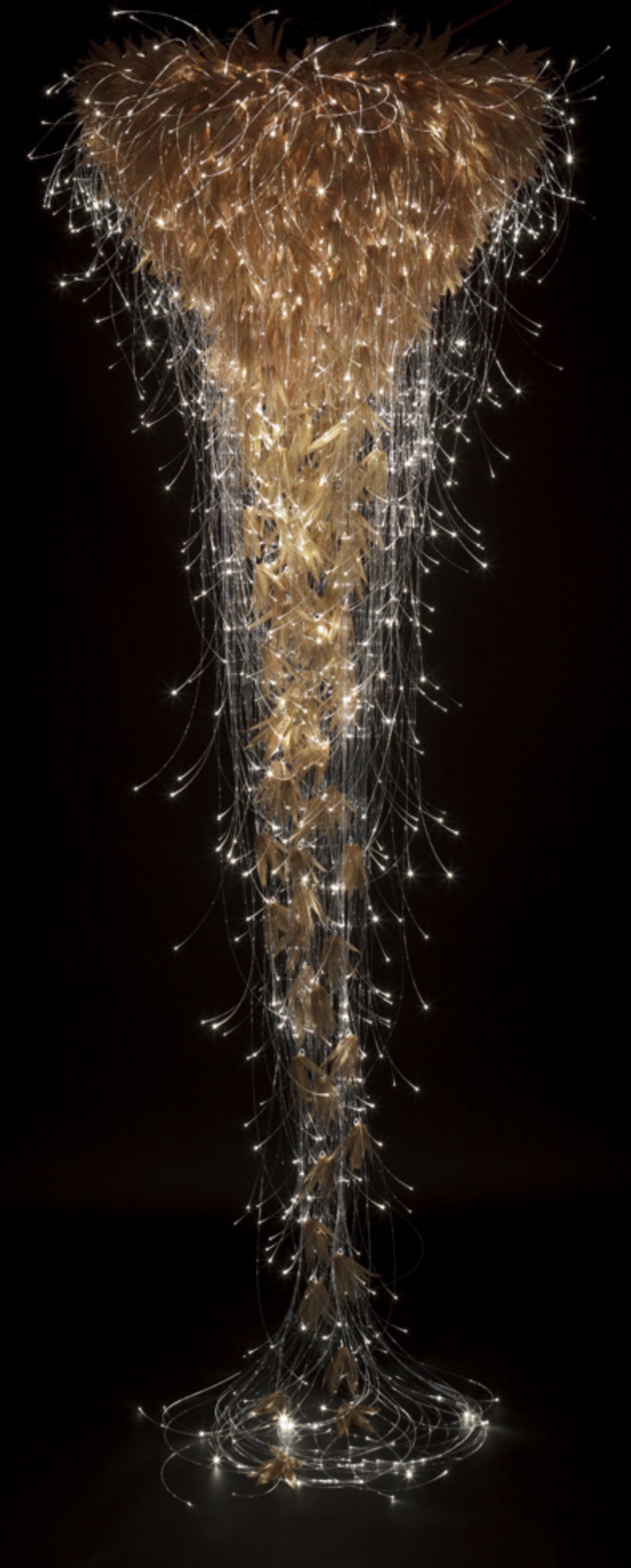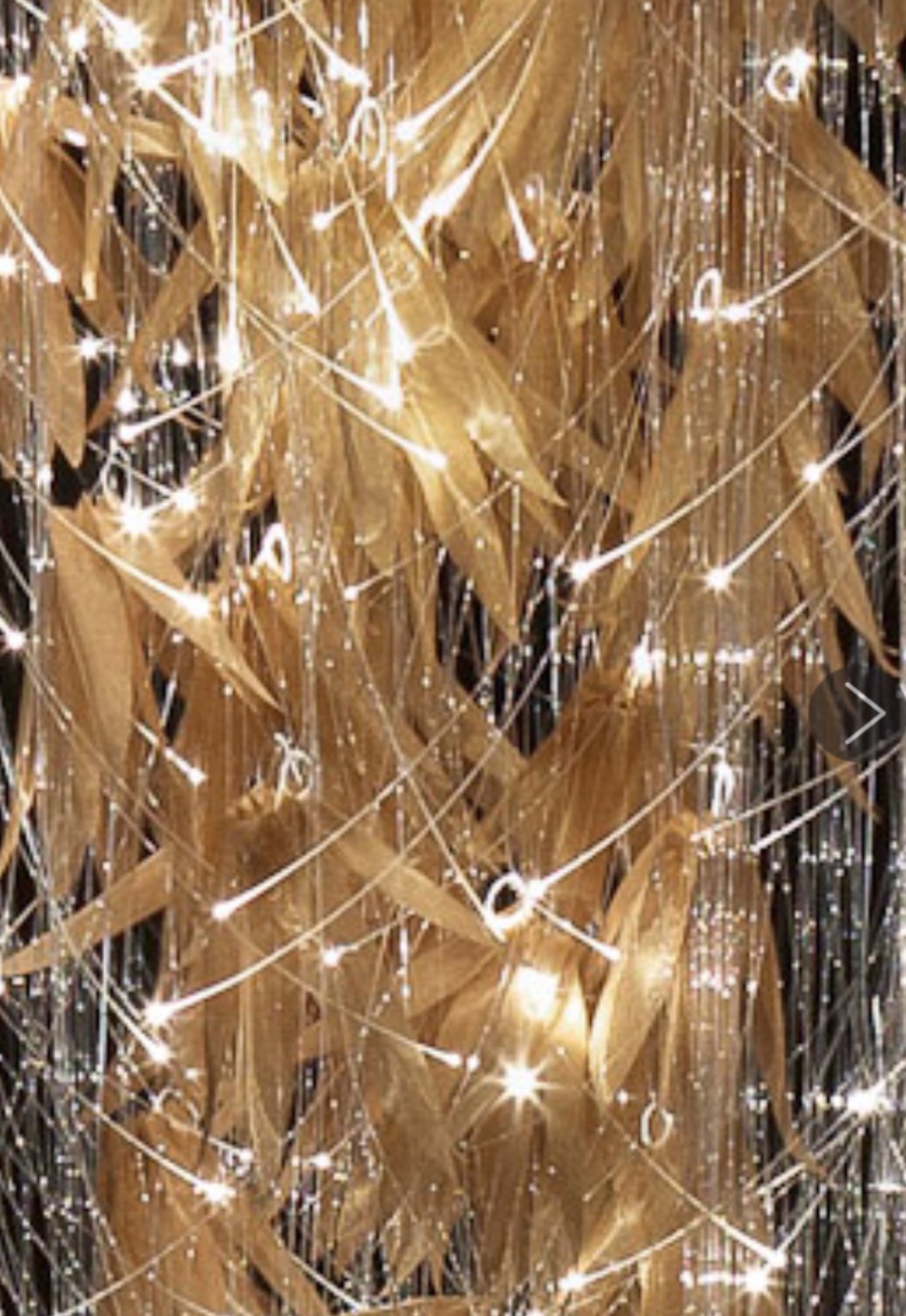 We see ourselves as curators trying to source pieces striking equilibrium between traditional crafts and innovation with international heritage but reflecting your personal style. We hope our collections of furniture and lighting, wall-coverings and fabrics on offer reflect this. Do call in to see the latest arrivals just in time for Christmas!
Lana and the team